Self-Efficacy as a function of Work Engagement with the mediating role of Organizational Trust in Higher Educational Institutions.
Muhammad Adnan

Azteca University, Mexico (UA) & Universidad Central de Nicaragua (UCN), Republic of Nicargua (North America).

https://orcid.org/0000-0001-6822-0841

Ather Ummad Khan

National College of Business Administration and Economics (NCBA&E) Lahore, Multan Sub-ampus

Raisham Hayee

National College of Business Administration and Economics (NCBA&E) Lahore, Multan Sub-ampus
Keywords:
Work Engagement, Organizational Trust, Educationists, Higher Educational Institutions, Southern Punjab, Self-Efficacy
Abstract
Purpose: The purpose of this paper is to find out the impact of the self-efficacy on work engagement in the employees working in the organization especially on the educationists (teachers and professors) working in the educational institutions of Southern Punjab, Pakistan.
Methodology/Design: The paper focuses on the survey with a questionnaire containing 30 questions with 7-point Likert Scale ranging from 1.0 (Strongly Disagree) to 7.0 (Strongly Agree) inculcating all three variables (self-efficacy, organizational trust and work engagement). The sample population was obtained from the Southern Punjab including the teachers and professors working in the public as well as private sector institutions. Quantitative data was analyzed through Pearson Correlation and Multiple Linear Regression.
Findings: The study finds the institutions pertaining to the higher education especially in South Punjab, Pakistan must focus on imparting self-efficacy within the employees to have high performance and growth. 
Limitations/Future Research: The study was based on a single research approach for investigation i.e., quantitative which may affect the investigation's outcomes. Furthermore, the findings of current study are cross-sectional. Future study may entail longitudinal study for investigating the relationship between self-efficacy and work engagement. Moreover, the study has been conducted with one mediator – organizational trust. Future research may go with more or other mediators like working conditions, employees' motivations, goal progress.
Practical Implications: The authors discuss the importance of the self-efficacy in the employees in order to enhance the work engagement within them through building the organizational trust.
Originality/Value: This study is fist of its kind that discusses the relationship between self-efficacy as well as the work engagement with a mediating role of organizational trust. The paper highlights the importance of the self-efficacy while employees exert their efforts to achieve their objectives enthusiastically due to the trust they have in the organizations.
 Keywords: Self-Efficacy, Work Engagement, Organizational Trust, Educationists, Higher Educational Institutions, Southern Punjab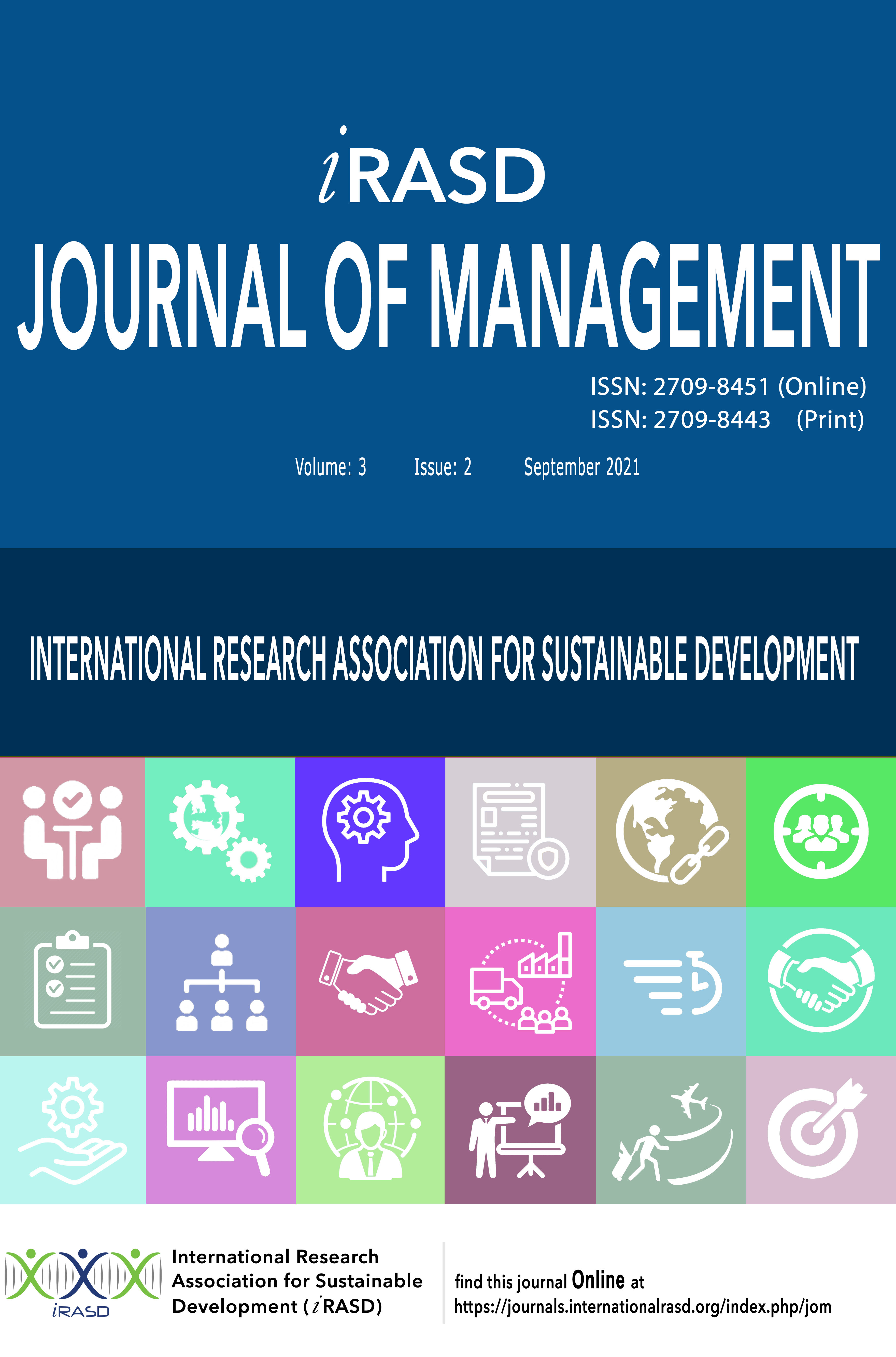 How to Cite
Adnan, M., Khan, A., & Hayee, R. (2021). Self-Efficacy as a function of Work Engagement with the mediating role of Organizational Trust in Higher Educational Institutions. IRASD Journal of Management, 3(2). Retrieved from https://journals.internationalrasd.org/index.php/jom/article/view/366